Hydrating Serums For All Skin Types
Why do you need a hyaluronic acid serum? Hyaluronic acid is the building block of healthy skin, and it works to boost your skin's natural moisture level. It's also known as a supercharged moisturiser that holds 1000 times its own weight in water, so it helps to plump up fine lines and give you an instant glow.
This article will discuss what are Hydrating Serums and the best ones to use in Singapore.


Why Use Hydrating Serums?
 Hydrating serums boost your skin's hydration, keep it from drying out, and help it retain moisture from within. Many serums have lipid-replenishing substances that nourish the skin profoundly. The optimum skin hydration combination for your face is using one before applying your favourite moisturiser.
Hydrating serums not only protect the skin from harmful causes such as UV radiation, air conditioning, stress, and pollution, but they also treat skin that has already been exposed.
Serums also include ingredients that aid to soothe the skin and minimize inflammation. They strengthen skin cells, resulting in a more effective protective barrier for your skin and the prevention of inflammatory cell damage.
How to choose hydrating serums?
Serums have a faster effect than conventional creams and lotions because they contain a higher concentration of active chemicals.
Various active substances are used for various purposes. Salicylic acid, for example, is used to treat acne and repair outbreaks.
Vitamin E, niacinamide, hyaluronic acid, and natural oils, to name a few, are some of the most beneficial ingredients in moisturizing serums. If your skin is drying out or you have flaky skin, seek a serum that includes these active components. Facial serums are often water-based. They easily absorb into the skin and do not leave a greasy residue as oil-based products do.


Best Hydrating Serums For All Skin Types
Choosing the right serum for your skin may be tricky, with so many options on the market.
We recommend seeing what is missing in your current regimen, whether it's exfoliating, brightening, hydrating, anti-aging, and so on.
If you are searching for a serum that has many benefits such as anti-aging, intense hydration, anti-oxidants and to stimulate collagen, we recommend the Hydromax Anti-Aging Serum.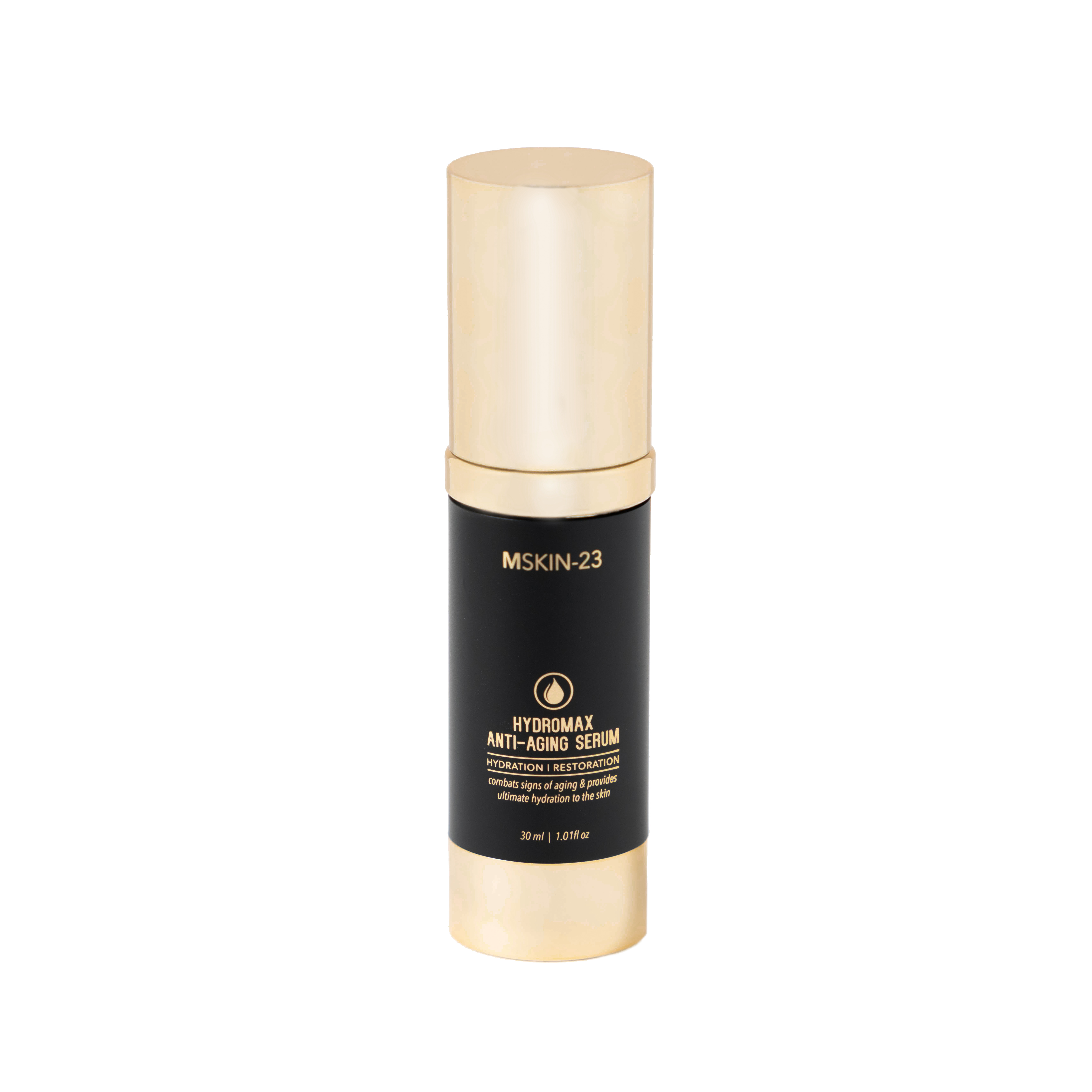 Size: 30ml
Type: Serum
Characteristics: Easy to absorb, Non-sticky, Fragrance-free
Skin Type: Dry, Oily, Combination, All types, Sensitive
Product Form: Water-based serum
Skin Concerns: Dryness, Pigmented, Dull, Oily, Dehydrated
This unique formulation for all skin types has been specially concocted by medical professionals. Armed with a potent mixture of different types of Moisture Retaining Hyaluronic Acids, it is a lightweight yet powerful, deeply hydrating serum that quenches your skins' thirst.
Rich in a plethora of Super Anti-Oxidants, this serum is able to eradicate the oxidative stress caused by free radicals in the skin. A melting pot full of Nano-Peptides, this potent treatment penetrates the skin to stimulate collagen, tighten and renew aging skin. This HyperBoosted HydroMax Anti-Aging Serum will renew, strengthen and maintain your skin's health.
Benefits:
Intense Hydration

Improvement in wrinkles

Improvement in pores

Increased collagen

Increased skin firmness and elasticity

Radiance and brightening
You may purchase it here - Hydromax Anti-Aging Serum.
However, if you are looking for a serum that helps with brightening of skin and to fight stubborn pigmentation, we recommend our Whitening Booster.



This is an intense proprietary-only whitening serum that combines multiple, effective proven whitening ingredients to treat and lighten pigmentation. Armed with a plethora of pigmentation-busting elements, this cocktail is designed to tackle Pigmentation, Blemishes and Hyperpigmentation.
Splashes of Anti-Oxidants also rejuvenate the skin while boosting its lightening effects.
Benefits:
Lightening of Pigmentation and Dark Spots

Treats Surface Discolouration

Improves Skin Blotchiness

Gives the Skin a Radiance
You may purchase it here : Whitening Booster.


Can serums be layered?
Since they're so lightweight, serums can be layered. Some serums, such as hyaluronic acid and vitamin C, pair together nicely. If you want to layer your face serums, make sure the ingredients are compatible and wait for one product to be absorbed first before applying the next one.
However, using too many skincare products might not help you reach your goals faster. Using too many products and active ingredients can result in irritation and breakouts.
Conclusion
Depending on your skin type and concerns, you may use different skincare products. Though everyone's skin is different, all skin types have one thing in common: they should be cared for using a combination of moisturizing, brightening and anti-ageing substances.
Examine your current skin-care routine to see what's lacking. That should help you figure out which face serum is appropriate for your skin type and issues.